Location, Venue and Travel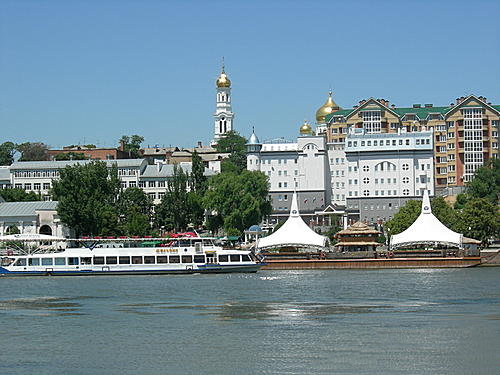 Rostov-on-Don, Don area capital, is the perfect location for an international Workshop. It has all the facilities international delegates would expect and is small enough, and friendly enough to explore thoroughly on foot. It has a magnificent city-centre setting.
Rostov-on-Don is a city rich in architectural delights, with the elegant buildings of the 18th Century contrasting with the characterful buildings of the 19th and 20th Century. The Workshop will take place in the main building of the Southern Federal University which is centrally located, close to the Center Town.
Further information on Rostov-on-Don and Don area can be found on many web sides including:
---
Air
Rostov-on-Donl Airport, situated approximately 20 minutes from the city centre, is served by regular direct flights from many European cities. Up to 10 flights (approx. 1.5 hour's duration) are available daily from Moscow Vnukovo, Sheremetyevo and Domodedovo Airports from connections world-wide.
Some airlines flying to Rostov-on-Don:
Rail
Rostov-on-Don Railway Station, Rostov-on-Don main rail station, is at the west end of Bolshaya Sadovaya Street, the city's main street. Rail travel from Moscow takes from 17 to 24 hours and there are many rail connections from other Russia cities.
Some useful rail sites:
---
Lunches
The Southern Federal University and University dormitory snack bars will be open throughout the Workshop and will sell a wide variety of sandwiches and hot lunches. Alternatively, there are a variety of restaurants, snack bars and shops in the vicinity of the Workshop site.
Passport and Visas
Participants requiring a visa should apply to a consular office or a diplomatic mission of the Russian Federation in their country in order to avoid a delayed arrival to the Workshop. Please note that the visa application procedure can take up to a few weeks. It is not possible to obtain a visa at the airport. The Workshop Secretariat will assist the delegates by processing an official invitation on request.
Official invitation by the Workshop organisers - your full name needed.
Official invitation by the Foreigners' Department of the Russian Federation - information needed:
Copy of your passport (scanned)
Surname
Name
Date of birth
Gender
Country of citizenship
Country of birth
Place of birth
Country of residence
Place of residence
Country of visa receiving
Place of visa receiving
Place of work
Office address
Number of your passport
Issue date of your passport
Expiry date of your passport
Address of intended housing (if you have registered for the "without housing" option booking the hotel room directly at the hotel)
As soon as the required data are received, the Workshop Secretariat will start the procedure of issuing the official invitation for you. The procedure usually takes a month. When the official invitation is ready, it will be sent to you by post or express delivery service. You shall then present it at the Russian embassy in your country and get visa for the Workshop.
Banking and Currency Exchange
Currency exchanges are available at Rostov Airport, Rostov Railway Station, and most Rostov city centre banks.
Climate and Weather
In October the weather should be mild, but it is advisable to bring a jacket. The average temperature in October is 10-20C or 50-68F (weather observation dairy, October 2007). Current weather in Rostov is available from weather forecast for Rostov-on-Don.